THE BEST ROMANTIC COMEDIES OF ALL TIME
REAL TALK: Reflecting on past years of celebrating Valentine's Day, no matter my relationship status, one thing always remains the same: my favorite way to celebrate this holiday is with ROMANTIC COMEDIES! Sometimes going out can be stressful. Restaurants are packed, the menus are all preset and the setting can feel very contrived. While I do love celebrating love, sometimes there is no better Valentine's Day than a date at home with your loved one, favorite rom-com, home cooked meal & delicious wine. #yesplease
I have been a rom-com fanatic since I was a kid! There's something about the easy watch, going on the whimsical journey with new characters falling in love and the fantasy of a (mostly) New York City based film that makes my heart sing. Which leads me to a very special list that I am excited to share with you:
The Best Rom-Coms of All Time (New, Old & Everything in Between)
Starring Julia Roberts, Dermot Mulroney and Cameron Diaz
My Best Friend's Wedding - "Forever and ever, you'll stay in my heart and I will love you" - UGH! This song gives me all of the feels! Diana King did a cover of Say A Little Prayer for You in the daring blockbuster starring Julia Roberts, Dermot Mulroney, and Cameron Diaz. This movie will grab your heart, and bring you on a rollercoaster of emotions. Also, how smashing does the cast look twenty years later!?
"In this film, childhood friends Julianne Potter (Julia Roberts) and Michael O'Neal (Dermot Mulroney) had a deal to marry each other if they were still single by age 28. Four days before her 28th birthday, O'Neil announces that he's marrying a gorgeous 20-year-old named Kimberly (Cameron Diaz). Suddenly realizing that she's actually in love with him, Julianne vows to stop the wedding at all costs. However, when she is appointed maid of honor, things get even more complex."
How to Lose a Guy in 10 Days
Starring Kate Hudson and Matthew McConaughey
2. How to Lose a Guy in 10 Days - This fun-loving film tops my list every year! When Andie (Kate Hudson) is given the assignment to write an article on How to Lose a Guy in 10 Days, she meets her match, Ben (Matthew McConaughey), who has taken on a bet that he can win a girl in 10 days. As real feelings begin to develop, their goals become tricky!
"An advice columnist, Andie Anderson (Kate Hudson), tries pushing the boundaries of what she can write about in her new piece about how to get a man to leave you in 10 days. Her editor, Lana (Bebe Neuwirth), loves it, and Andie goes off to find a man she can use for the experiment. Enter executive Ben Berry (Matthew McConaughey), who is so confident in his romantic prowess that he thinks he can make any woman fall in love with him in 10 days. When Andie and Ben meet, their plans backfire."
To all the boys i've loved before
Starring Lana Condor, Noah Centineo and John Corbett
3. To All The Boys I've Loved Before - This Netflix gem instantly pulls you into the captivating world of Lara Jean (played by Lana Condor), who writes secret love letters to all the boys she's ever loved - not knowing the letters would ever get sent out! This charming young adult rom-com is a sweet and joyful story of young love for modern audiences.
"Lara Jean writes letters for every boy she's ever loved-- five in all. When she writes, she can pour out her heart and soul and say all the things she would never say in real life, because her letters are for her eyes only. Until the day her secret letters are mailed, and suddenly Lara Jean's love life goes from imaginary to out of control."
Starring Vince Vaughn, Owen Wilson, Rachel McAdams, Isla Fisher and Bradley Cooper
4. Wedding Crashers - This may not be your typical romantic comedy, but it is so much fun to watch on Valentine's Day! Vaughn & Wilson play a dynamic duo who spend their free time crashing weddings to meet lots of women. However, when they each meet unexpected potential love interests, their plans takes an interesting turn. This film is packed with A-listers and will have you laughing throughout the entire evening.
"Jeremy (Vince Vaughn) and John (Owen Wilson) are divorce mediators who spend their free time crashing wedding receptions. For the irrepressible duo, there are few better ways to drink for free and hook up with vulnerable women. So when Secretary of the Treasury William Cleary (Christopher Walken) announces the wedding of his daughter, the pair makes it their mission to crash the high-profile event. But their game hits a bump in the road when John locks eyes with bridesmaid Claire (Rachel McAdams)."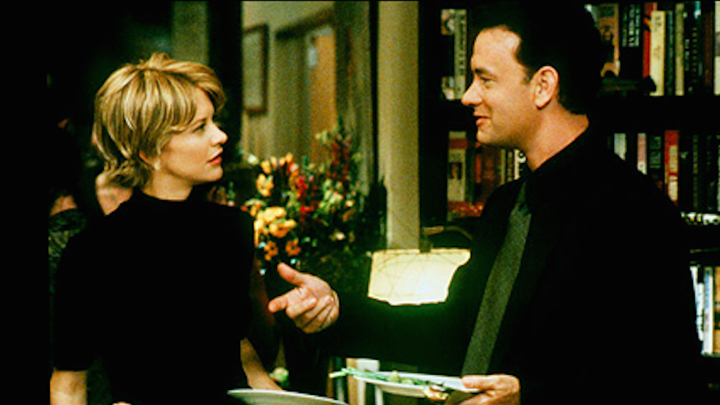 Starring Meg Ryan and Tom Hanks
5. You've Got Mail - Those three little words that make our hearts go pitter patter - you've got mail. This movie from '98 is a magical love story of two unlikely individuals "meeting" and falling in love. The nostalgia of the 90's, AOL, and the chemistry between Meg Ryan and Tom Hanks make this movie a top contender on the list!
"Struggling boutique bookseller Kathleen Kelly (Meg Ryan) hates Joe Fox (Tom Hanks), the owner of a corporate Foxbooks chain store that just moved in across the street. When they meet online, however, they begin an intense and anonymous Internet romance, oblivious of each other's true identity. Eventually Joe learns that the enchanting woman he's involved with is actually his business rival. He must now struggle to reconcile his real-life dislike for her with the cyber love he's come to feel."
Starring Michelle Monaghan and Patrick Dempsey
6. Made of Honor - Is the best rom-com list even complete without a film starring Patrick Dempsey!? Tom (Patrick Dempsey) and Hannah (Michelle Monaghan) glisten on screen together in this heartfelt story between two best friends who discover their feelings for one another at incredibly inconvenient times. Will they end up together? Or will Tom watch his best friend Hannah marry someone else?
"Always shy of commitment, Tom (Patrick Dempsey) lives as a serial dater. Hannah (Michelle Monaghan), his best friend, has wanted to marry and now has found Mr. Right -- just as Tom realizes he really loves Hannah. When she asks him to be in her bridal party, Tom seizes the opportunity to prevent the nuptials and woo her himself."
Starring Katherine Heigel and James Marsden
7. 27 Dresses - As I began to enter adulthood, Katherine Heigel was the QUEEN of romantic comedies. Watching her find love in 27 Dresses gave single women everywhere an inspiring outlook on romantic relationships. After all, in this film, Heigel portrayed Jane, who had been a bridesmaid nearly TWENTY-SEVEN times before finding love in an unlikely suitor. This movie alone is worth it for the Benny and the Jets bar scene!
"Perennial bridesmaid Jane (Katherine Heigl) always puts the needs of others before her own, making her the go-to gal whenever someone needs help with wedding plans. So when Jane's younger sister Tess (Malin Akerman) snags the man (Edward Burns) Jane secretly loves, Jane finds herself questioning her role as a wedding junkie for the first time in her life. Meanwhile, a handsome reporter (James Marsden) sees Jane's unusual story as his ticket off the bridal beat."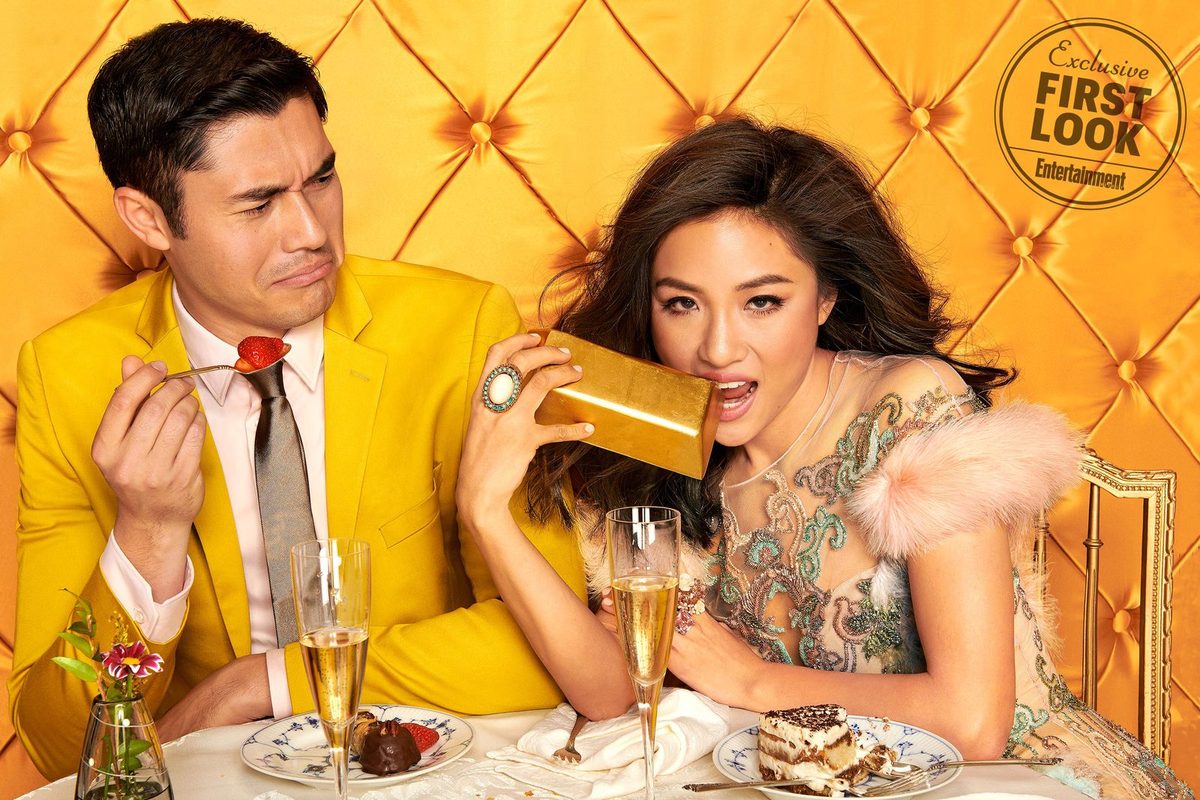 Starring Constance Wu and Henry Golding
8. Crazy Rich Asians - This film was another unexpected rom-com delivered to us last year! Crazy Rich Asians shares an incredibly powerful and important story. I laughed, I cried, and I laughed and cried some more. Actor's Constance Wu and Henry Golding truly dazzle together in this beautiful tale.
"Rachel Chu is happy to accompany her longtime boyfriend, Nick, to his best friend's wedding in Singapore. She's also surprised to learn that Nick's family is extremely wealthy and he's considered one of the country's most eligible bachelors. Thrust into the spotlight, Rachel must now contend with jealous socialites, quirky relatives and something far, far worse -- Nick's disapproving mother."
Starring Rachel McAdams and Ryan Gosling
9. The Notebook - You didn't think I'd forget this masterpiece, did you!? Ugh, I have so many things to say about my love for this film. Between the romantic period setting, watching real-life loves, Rachel McAdams and Ryan Gosling, falling in love on screen (their breakup still kills me to this day), to the passionate, deep, love you until the end of time kind of romance - this flick is a keeper!
"In 1940s South Carolina, mill worker Noah Calhoun (Ryan Gosling) and rich girl Allie (Rachel McAdams) are desperately in love. But her parents don't approve. When Noah goes off to serve in World War II, it seems to mark the end of their love affair. In the interim, Allie becomes involved with another man (James Marsden). But when Noah returns to their small town years later, on the cusp of Allie's marriage, it soon becomes clear that their romance is anything but over."
Starring Michelle Pfeiffer and Robert Redford
10. Up Close & Personal - ::Cue Celine Dion's theme song - Because You Loved Me and tissues. Lots and lots of tissues:: I bet I caught you off guard with this movie! Perhaps you thought this would be When Harry Met Sally? (So sad, but I still have not fully seen that movie! Maybe this year will be the year?) But no, my friends, one of my favorite romantic comedies of all time is Up Close & Personal! I used to watch this movie with my mom and just adored it so much. This oldie but a goodie is sure to give you all the feels this Valentine's Day!
"Warren Justice (Robert Redford), a producer for a Miami news program, watches an audition tape from a young Nevada woman named Sally Atwater (Michelle Pfeiffer) and decides to hire her. Under Warren's mentorship, Sally rises from gofer to on-air personality, and eventually gets a job in Philadelphia, a more prestigious market. There, she tussles with veteran anchorperson Marcia McGrath (Stockard Channing) and lands a story that catapults her to national prominence."
and there ya have it!
I wish I had time for a longer list because there are so many wonderful rom-coms out there, but start with these first! Is your favorite movie on the list? Let me know! Xx, A